The Standard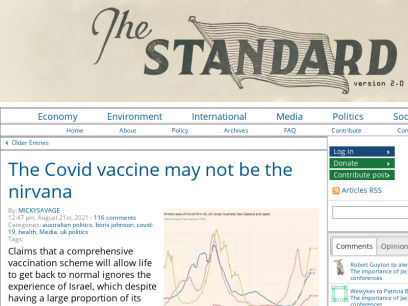 N/A Feeds Party Government Media Life in lockdown, Round Two – Day 4 – Caretaker Leader Collins, another rare mis-step . . Also Caretaker Leader Judith Collins, on the sidelines… "We are in lockdown because the government did not act with urgency to protect New Zealanders. Their complacency and inability to ensure supply and delivery of the vaccine roll-out has left New Zealanders as sitting ducks; completely vulnerable to the ... Frankly SpeakingBy Frank Macskasy 19 hours ago Any Stick Will Do Right-wing political commentators can scarcely contain their impatience in their efforts to detect and encourage signs that the gloss...
Stats
---
---
SSL Details
---
DNS Details
---
Keywords On thestandard.org.nz
---
LongTail Keywords On thestandard.org.nz
---
Technologies Used by thestandard.org.nz
Google Font API
Google Font API is a web service that supports open-source font files that can be used on your web designs.
Website:
http://google.com/fonts
Apache
Apache is a free and open-source cross-platform web server software.
Website:
http://apache.org
PHP
PHP is a general-purpose scripting language used for web development.
Website:
http://php.net
WordPress
WordPress is a free and open-source content management system written in PHP and paired with a MySQL or MariaDB database. Features include a plugin architecture and a template system.
Website:
https://wordpress.org
MySQL
MySQL is an open-source relational database management system.
Website:
http://mysql.com
Gravatar
Gravatar is a service for providing globally unique avatars.
Website:
http://gravatar.com
Ubuntu
Ubuntu is a free and open-source operating system on Linux for the enterprise server, desktop, cloud, and IoT.
Website:
http://www.ubuntu.com/server
W3 Total Cache
W3 Total Cache (W3TC) improves the SEO and increases website performance and reducing load times by leveraging features like content delivery network (CDN) integration and the latest best practices.
Website:
http://www.w3-edge.com/wordpress-plugins/w3-total-cache