Education Week - K-12 education news and information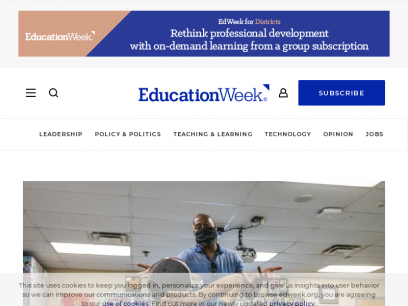 N/A Student Well-Being Virtual Learning Was Better for Some Kids. Here's What Teachers Learned From Them Looking at what went right in virtual classes for students with learning differences or social anxiety offers lessons for in-person teaching. Alyson Klein • 5 min read Remove Save to favorites Open image caption Close image caption Kareem Neal leads a class at Maryvale High School in Phoenix, Ariz., earlier this week. Ash Ponders for Education Week Student Well-Being What the Research Says Face Masks and Kids: Separating Fact From Fiction As debates over face masks in school heat up, here are the facts educators...
Stats
---
---
SSL Details
---
DNS Details
---
Keywords On blogs.edweek.org
---
LongTail Keywords On blogs.edweek.org
---
Technologies Used by blogs.edweek.org
Java
Java is a class-based, object-oriented programming language that is designed to have as few implementation dependencies as possible.
Website:
http://java.com
Amazon Cloudfront
Amazon CloudFront is a fast content delivery network (CDN) service that securely delivers data, videos, applications, and APIs to customers globally with low latency, high transfer speeds.
Website:
http://aws.amazon.com/cloudfront/
Amazon Web Services
Amazon Web Services (AWS) is a comprehensive cloud services platform offering compute power, database storage, content delivery and other functionality.
Website:
https://aws.amazon.com/
Brightspot
N/A
Website:
https://www.brightspot.com
Apache Tomcat
Apache Tomcat is an open-source implementation of the Java Servlet, JavaServer Pages, Java Expression Language and WebSocket technologies.
Website:
http://tomcat.apache.org